How to Start a Career as a Freelancer
Posted on: March 20th, 2020
Freelancing has become one of the most popular career options globally. Modern technology and the internet have made it possible to start a career as a freelancer.
One of the major perks of a freelancer is the abilty to work on your terms. You dictate the location, the hours, and the dress code!
That being said, the world of freelancing is complex and might not be for everyone. The hardest part about it is getting started.
Starting off on your own without any direction can cause you to take on the wrong kind of work. This can easily discourage you from progressing further in your career.
This article has the tips you need to take the leap into the world of freelancing. But before we get started, let's look at why so many people are becoming freelancers.
Advantages of Being a Freelancer
The advantages of being a freelancer that works from home definitely outweigh the advantages of a regular job.
Even corporate companies are beginning to realize this now. They too are allowing their employees to work remotely.
People who work from home have proven to be more productive as opposed to being in an office.
Businesses obviously benefit from this sort of productivity and reduced expenses in office space. There's no need for a large office no that employees work from home.
Small businesses, especially entrepreneurs that work from home, prefer to hire freelancers over permanent staff. This keeps its initial startup costs down.
So far I've mostly mentioned how companies can benefit from hiring freelancers. It is important to understand how valuable you as a freelancer can be to your clients.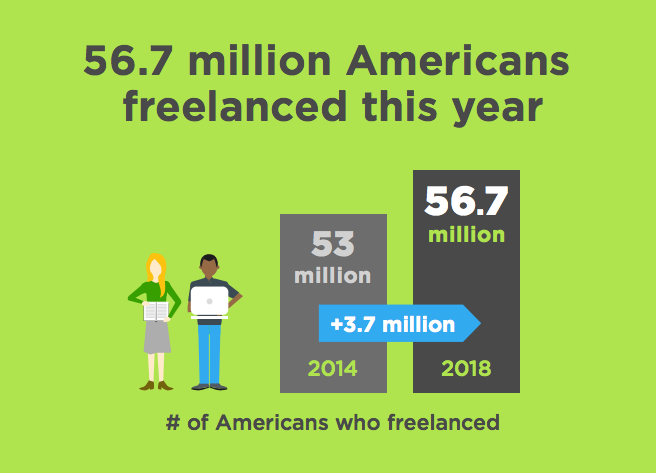 Some of the advantages of working from home include:
Flexible work hours – This benefits you and your clients. Especially if you work with international clients.
Reduced monthly expenses – You save money on clothing, food, travel, and more. You also save time spent commuting to work.
You are in control of your earnings – With a regular job, you get what you get month after month. As a freelancer, you can push yourself harder to earn more or take it easy and work 3 days a week.
A productive work lifestyle – There is no boring downtime as you would get working a regular job. No need to wait for 5 pm to go home with the same salary every month. Instead, as a freelancer, you can be productive in these moments and earn additional income.
Getting Started as a Freelancer
Firstly, being a successful freelancer is not easy. It isn't a glamorous lifestyle that most people make it out to be. Freelancing and working from home is hard work.
If you are transitioning from a full-time job to freelancer because of the perks of working from home, it won't be a walk in the park,
Even if you are coming from a pretty demanding job, you will still have to work very hard as a freelancer. In some cases, harder than you would have worked at your regular job.
Things are very different when you are a freelancer. You don't just work for a paycheck, you work to build up a reputation.
This means that you will probably overdeliver just to ensure your work is of the highest quality (which isn't such a bad thing).
So, make your intentions clear first before transitioning into a freelance career. If you are doing it for the money, you might not be motivated enough to steer past the struggles of being a freelancer.
Your motivation for being a freelancer can be as simple as not wanting to be in a toxic work environment anymore. When times are tough, and you are thinking of quitting, you will remember how difficult your last job was.
Where Do I Find Clients?
When it comes to sourcing out clients for your freelancing career, skies the limit!
You can potentially work with clients in your own town or clients across the globe. Modern technology has made it simple and efficient to effectively communicate with clients around the world.
If you feel more comfortable working with local clients, then you can start out simply by asking friends, family, and previous work colleagues if they need your services.
Simple networking like this (or on social media) can land you your first few gigs. However, you should not rely too heavily on people promising that they will find you work.
Don't wait for the work to come in, keep networking until you are currently busy on a few projects. Waiting for friends to deliver you clients is unproductive.
You also don't want to keep on reminding people about the clients they offered you. You could come off as desperate and it can impact your relationship.
Be patient and keep on getting the word out there.
Going International
Local businesses hire overseas freelancers all the time. Freelancer platforms like Upwork make it easy for both companies and freelancers to connect with each other.
Upwork (and other platforms like Fiverr) also make it easy for you to manage your projects and payments. With Upwork, you can search and apply for work, complete the project, then apply for payment.
You can also track time with Upwork and get paid by the hour. One advantage of using Upwork is the fact that payment from clients is guaranteed.
When you start a project, the client immediately makes payment into Escrow. The money is then transferred to you once the project is complete. If you are just starting out a freelance career, then Upwork is a safe option.
The Problem with Global Freelance Marketplaces
Upwork is a great place for new freelancers to start off. Especially if you have been striking out a lot lately with your local clients. Upwork can keep you busy while providing you the sort of experience you need.
However, global freelance markets like Upwork are very competitive, especially if you just created a new profile. You will have to apply for really low paying gigs if you want to land your first gig.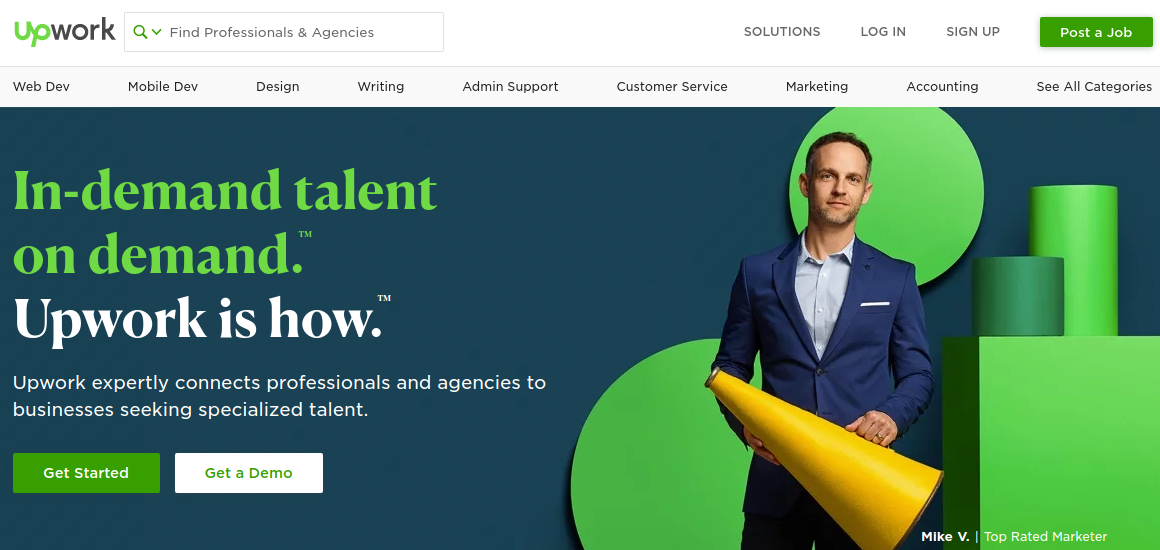 It also takes a long time (and really hard work with low pay) to develop a good profile on Upwork. Companies are always looking for freelancers with the lowest rates.
So even if you do build your profile and increase your rate, gigs will still remain difficult to come by.
Because of this, it's best to directly network with companies that prefer using staff that work remotely. You can use social media or email to reach out to companies.
Tools of the Trade
As a freelancer, you will have to invest in your own hardware and software. When you work at a regular job, everything is usually provided for you.
Now, you will have to treat your freelance career like a business by investing time and money into the tools of the trade.
Hardware
The most crucial tools of your freelance career is a computer and an internet connection. It's best to invest in an adequately powerful computer with great processing power.
The faster your computer is, the quicker you will be able to complete tasks and projects. This will allow you to breeze through projects.
You might think that a cheap low-end laptop will do the trick for people who mostly work with spreadsheets and other basic tasks.
The problem is that if you do decide to take on more intense work that requires you to open up a lot of tabs in a chrome browser, your laptop won't be up for the challenge.
A slow computer means long wait times and added frustration. Try to find a machine with an i5 processor and up. A minimum of 8GB of RAM is essential for Windows machines.
Software
Having Microsoft Office (or another alternative like LibreOffice) is essential. Even if you don't always make use of spreadsheets.
Office software can come in handy when it is needed to open excel or word documents. Google Sheets and Docs is another popular online resource that is used often, which is why you should learn how to use it.
As mentioned earlier, modern software and online tools have made it possible to effectively communicate with clients from around the world.
A lot of clients will use these tools to communicate with you and manage your projects.
Here are some of the most popular online tools that are worth researching:
Slack – A messaging app that is highly focused on staff communication.
Trello – An app that manages projects and to-do lists.
Dropbox – An online storage service that provides free limited storage.
Google apps – From Gmail to Google Drive. Google apps are among the most popular apps on the web.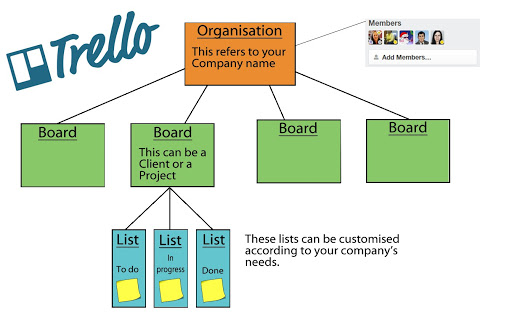 If you are looking to start a career as a graphic or web designer, there are tons of free apps to get you started.
There's no need to invest in expensive software. You can try out free graphic design software like Gimp and Inkscape. Other great online alternatives are Canva and Photopea.
Linkedin is an essential social platform for freelancers. It's a great place to network with companies and executives that are looking for freelancers.
You can use Linkedin to effectively market yourself or your business. If you don't have a Linkedin account, create a profile now!
Keep Persisting in Your Career
Freelancing is a totally different ballgame when compared to a regular job. There are times when you will end up working even harder than you ever did.
The good news is that you are in control of what you earn. The moment you are comfortable and have enough experience, you can decide to increase your rate or take on larger projects.
Your entire lifestyle can change instantly just by increasing your rate. You won't have to work such long hours anymore.
Remember this in the initial startup phase of your freelancer career. Create goals for the amount of money you want to earn and work towards it.
TL;DR
Freelancing is an excellent career choice. More people globally are beginning to create successful careers for themselves through freelancing. Getting started is the hardest part because your salary isn't always guaranteed. However, if you keep working and keep learning, you will eventually start earning well.
What are your thoughts on freelancing? Have you tried it before or are you looking to get started? Let us know in the comments below.
Guest Author
Jack Paxton is the co-founder of VYPER, a marketing tool that helps brands build email lists, social followings and revenue using viral giveaways, referral and reward programs. After millions of dollars spent testing different marketing strategies at his marketing agency. He then also co-founded Hyax a fast, conversion & design-focused course and funnel builder for creators.